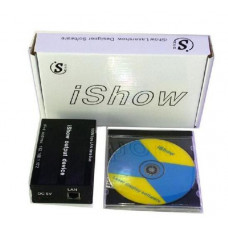 Notice
If you have any questions about our products before placing the order,please send us email:info@kimlaser.com,we will reply you within 24 hours.


Note:
1.Before buying this software, you can download it and try:

(After trying, if you don't like it please don't buy it,we don't accept returning if you don't like it because second-hand software will affect our second selling, please notice.)
2.Manual of how to use Ishow 3.0
4.How to change Chinese Version to English?
5.How to add/import ild files to Ishow 3 main page?
iShow V3.0 Ethernet Stage Laser Light Software 64 bit and USB To ILDA Box
The iShow Laser Show software controller simply plugs in to your computer USB port and laser projector ILDA port. Simply run the software from your computer and control the laser creating graphics, beams and text shows.
iShow is perfect for beginners and low budget systems.
Watch our the iShow in action via the video below
To upgrade to a fully professional laser software controller see our Quickshow listing.
Below are some screen shots of the various iShow menu items.
iShow Picture Editor
iShow Quick Play window
iShow Main Menu
What you get:
Software:
iShow software download link.
Note: As a number of CDs arrived damaged or had data missing, we are offereing a download link only to get the software to avoid any of these problems.
Hardware:
iShow USB interface box (110x78x31mm)
USB cable to connect the box to your PC.
Note: The ILDA cable to connect between the iShow dongle and laser projector is not included, but is available seperately as we have a range from 1m to 30m to suite all applications. See listings.
Features:
· Drawing lines and shapes
· Positioning, size, edit,
· Colour settings
· zoom, rotate, mirror, copy
· Colour chase, rainbow effect
· Line blanking
· Text, font list, width, height, fine/course settings
· Preview
· Play/ edit sequence
· Add, delete, save, copy frame
Computer requirements
·
Compatible with WinXP/Win98/Win7/Win8 / Vista(64bit)/Win10 operating systems
· Operation with USB2.0 and USB1.1 graphics interface card,
· CPU`s clock frequency which is 2.4 GHz or above
· Memory of 256MB or above
· Screen display must support 1024*768 resolution
Projector requirements
A lasershow projector with ILDA-standard input connector Any speed scanners, from 10K to 60K+ Any colour,
from single-color to full-colour RGB and is Compatible for TTL lasers.
Installation:
- Download the software from this listing and open the files
- Click on iShowII_EN and then setup.exe
- Follow the setup wizard instructions
- When this is finished connect the interface box to your PC and install drivers
- Your now set and ready to go enjoy.
If you want to watch more video about our procuts, please check our Youtube Channel:
Return
Policy

If the product you receive is not as described or low quality, the seller promises that you may return it but please contact the support first, email is info@kimlaser.com. The return shipping fee will be paid by you. Or, you can choose to keep the product and agree the refund amount directly with the seller.

Seller
Service

If you do not receive your purchase within 90 days, you can ask for a full refund,please contact the seller in time.

Warranty
All of our products have one years' warranty. During one year, we can help you to fix the product without fee or we can send you replace parts. If out of warranty, you can b

uy replace parts from us.
iShow V3.0 Powerful Laser Light Show software Laserist laser light show Laser Show Designer iShow Software